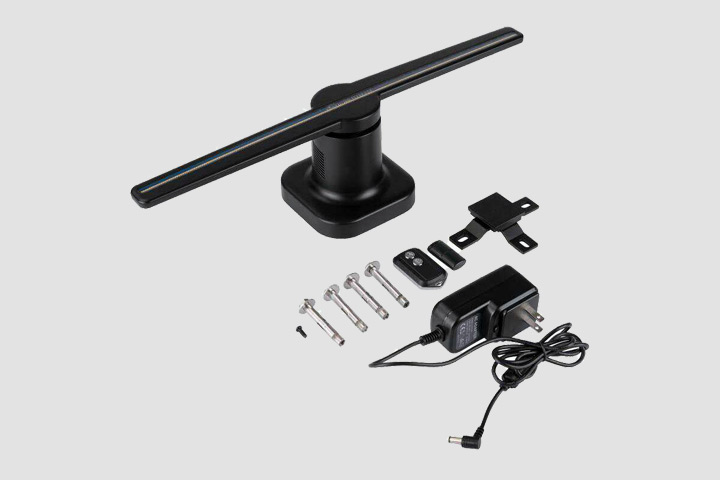 3D hologram advertising display LED fan, new and intelligent product with high technology for the advertising line.
3D floating effects to produce a 360-degree display that grabs customers' attention.
Widely used in Retail Shop, Shopping malls, Showroom, Supermarkets, Events, Tradeshows, Airports, AD agencies.
Also in Hotels, Food courts, Fitness clubs, events display advertising, etc.
Product parameters
SKU: 3D42
Name: 3D Hologram Advertising Display LED Fan
Power: 10-15W
Display Diameter: 420mm
Viewing angle: 150°
Content: MP4, Avi, Rmvb, GIF, JPG.mkv.Png
3D Effect Format: MP4 or GIF with black background
Software: converting and setting the content to SD card
Content Upload: insert SD card
Input Voltage: 100-240V AC 50/60Hz
Resolution (pixel): 450*224
Frame material: ABS+PC+Aluminum
Machine size: 420*130*110mm
Packing size: 130*51-*170mm
Weight: 1.5KG
LED quantity: 224pcs
LED type: RGB0805LED light
LED life: 100000hours
Work environment: indoor, non-waterproof
Installation: mounted on the wall
Application: indoor advertising for shop, bar, casino, restaurant etc.
Computer operating system: Windows XP / 7 / 8/ 10
it's a kind of display machine that uses the persistence of vision(POV) technology.
A belt composed of high-density LED lights spins at high speed, thus making the image vivid and tridimensional.
3D hologram advertising display LED fan
The quality of the light is fundamental for every environment, for this reason, we choose LEDs of well-known brands.
Packaging
50*12.5*16.5cm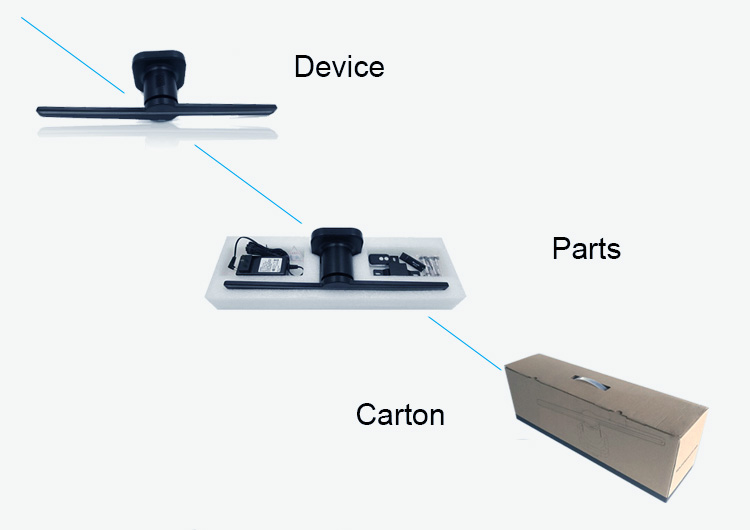 3D hologram advertising display LED fan
Therefore, we have indicated the main information and characteristics, further news can be requested from our technical office.